Courses
Circadian Rhythms-Biological Clocks
Circadian Rhythms-Biological Clocks is an upper-level undergraduate course taught jointly between the Division of Biological Sciences (as BIMM 116) and the Department of Psychology (as PSYC 133). This 4 credit-hour course explores the fundamental properties and mechanisms of the daily biological clock in humans, other animals, plants, and microbes. Topics include the experimental approaches that are employed to understand how organisms keep time and the relationship of the clock to human health. Prerequisites are Psychology 106 or BILD 1 or consent of instructor.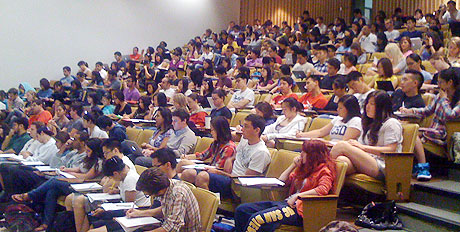 The course is offered every Fall quarter, taught jointly by Drs. Michael Gorman and Susan Golden, with an enrollment of approximately 220 students. Guest speakers chosen from the CCB faculty will be invited to speak on their areas of specialty.
---
Meet The Instructors
Michael Gorman
Professor
Department of Psychology
Executive Committee, Center for Circadian Biology
I joined the faculty of the UCSD Psychology Department in 1998, where I have witnessed the growth of UCSD as a "world capital" of circadian research. As a psychologist, my work naturally includes a heavy focus on behavior, particularly how the environment influences the rest/activity cycles of rodents and how physiology and behavior are programmed to vary on a season basis. Recently, we have also begun exploring how circadian clocks influence alcohol dependence and addiction in mice. The thrill of this class -- and of my research -- is in illustrating how environments, genes, cells, brains and behavior fit together as a solution to the adaptive problem of a spinning earth tilted on its axis and the consequences of those evolutionary solutions for human behavior.
Susan Golden
Distinguished Professor
Division of Biological Sciences
Director, Center for Circadian Biology
I'm relatively new to UCSD, moving my lab here in November 2008 after almost 23 years as a professor at Texas A&M University. My specialty is in cyanobacteria -- a type of photosynthetic bacteria sometimes called "bluegreen algae" that carry out the same kind of photosynthesis as plants. So far, cyanobacteria are the only bacteria we know of that have genuine circadian rhythms. My lab developed the genetic model system for studying the cyanobacterial circadian clock, which we approach through genetics, genomics, biochemistry, and structural biology. UCSD has an exceptional strength and breadth of circadian researchers, spanning work like mine to sleep research in humans. This class provides a wonderful forum in which students can tap the rich resource of circadian biology at UCSD, and I'm happy to be a part of it.
---
Meet The TAs

Ben Sheredos
sheredos@ucsd.edu
I am a fifth-year graduate student in the Philosophy department, pursuing an Interdisciplinary Ph.D. in Cognitive Science. ("Wait, what?"). I study philosophy of mind and philosophy of biology, topics that overlap with this course interesting ways. As we'll see in the course, even "simple" organisms do very sophisticated work to flexibly track time in the world – their lives depend on it. When "big critters" like humans exhibit this kind of flexible engagement with the world, we tend to think they have rich, cognitive abilities. When I first TAed this course, I gained much respect for "simple" organisms, and began to wonder whether the sciences of the mind should say more about "little critters." Since then, I have also been studying the ways that chronobiologists use diagrams and visual representations to help themselves and each other think about the mechanisms of circadian rhythmicity. In the class, you will have to follow chronobiologists in mastering a number of distinctive graphical practices to think through the complexities of timekeeping. I look forward to helping you do so.

Megan Dueck
mdueck@gmail.com
I am a third year grad student in the Biological Sciences PhD program. I work in the lab of Professor Jeff Hasty. Our lab uses a bottom-up approach to studying biological oscillations. Historically this has involved engineering genetic circuits capable of generating stable gene expression oscillations in a non-oscillating environment. As circadian rhythms are a naturally occurring biological oscillation, my research interests overlap with the Circadian Rhythms course content. My specific research involves examining bacterial fitness with regard to biological oscillations as well as oscillating environmental conditions. I truly enjoy my research and would happily discuss it with you at any time outside of class.

Ali Harris
a5harris@ucsd.edu
I have always had a passion for biology and strived throughout my education to explore many different facets of the field, which is what led me to take the Circadian Rhythms course during my undergraduate work; it is a fascinating field, and the course provides a wonderfully comprehensive view of circadian biology, from micro to macro scale, which is a refreshing difference from the standard biology courses at UCSD that generally focus on one or the other. I completed my undergraduate work at UCSD, majoring in Biochemistry and Cell Biology, and am currently in my final year as a Masters student in Biology. My thesis research focuses on the cross-talk between important cellular signaling pathways in the epithelium of the small intestine and attempts to elucidate the mechanism of their interaction, which has potential significance for identifying and preventing the tumor escape mechanisms underlying chemoresistance and thus impacting potential therapeutics for cancer patients. My Masters research is being conducted in the lab of Eyal Raz, M.D. of the UCSD School of Medicine.

Erin Hourigan
ehouriga@ucsd.edu
I am currently a Masters student in Dr. Paul Price's Lab. I graduated June 2012 with my BS in Biochemistry and Cell Biology. I took this course two years ago and loved how it was taught with both biological and psychological perspectives. I enjoyed the course so much that I decided to become a TA the following year. My goal for this quarter is to help students find this course as interesting as I did and to provide an enjoyable learning experience.
Ruichen Sun
r5sun@ucsd.edu

Circadian rhythm has fascinated me for a long time, particularly so when I suffer from jet-lags. As a second-year international graduate student in division of biological sciences, I have quite a few experiences in which my biological clocks do not align with the natural clock. I believe understanding of how biological clock works is both beneficial and necessary. Thus, being a TA for this course is very exciting to me, and I am sure it would be a rewarding experience for myself as well. Currently, I am in Dr Ralph Greenspan's research group. My research interest lies in the intersection between engineering and neuroscience.
---
Chronobiology Summer School at Vanderbilt University
The Center for Circadian Biology was proud to send three very talented instructors to this year's Chronobiology Summer School to be held at Vanderbilt University July 21-26, 2013. Our Instructors were Colleen Doherty, Shubhroz Gill, and Dominic Landgraf.
---